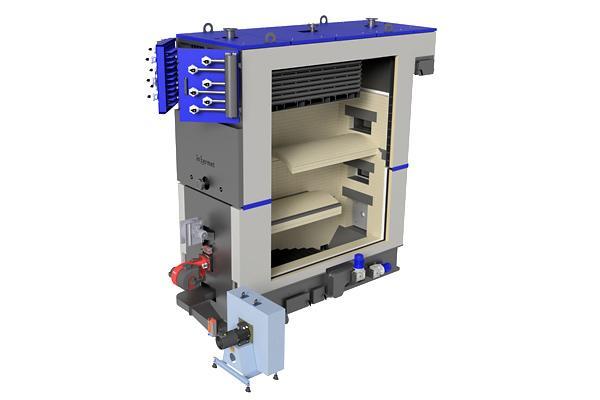 Ekomat RTPO Power Unit is designed for the thermal treatment of wood-based, "non-hazardous" waste, including post-production waste from furniture factories (MDF, HDF boards). The maximum moisture content of the fuel is 25% and size - up to 30 mm. Ceramic combustion chamber is equipped with retort furnace and hydraulically-driven sliding grate. The boiler unit has been extended with an additional afterburning chamber ensuring that the flue gas stays in the high temperature environment for 2 seconds after the last air supply. The standard equipment of any waste thermal treatment plant include:
flue gas recirculation system, contributing to the emission reduction of nitrogen oxides (NOx)
oil or gas burner
multi-cyclone, performing preliminary dust extraction from flue gas
Elenergy electrostatic filter ensuring high efficiency of dust extraction from flue gas
connection point for the system of ammonia injection (SNCR) to the combustion chamber.
Ekomat RTPO is a boiler designed in accordance with the guidelines contained in the Regulation of the Minister of Development of 21 January 2016 on the requirements for conducting the thermal waste treatment process.
Boilers of Ekomat RTPO series are fully automated. Advanced controllers control all the unit's operating parameters. In addition, we provide remote access to the control panel, via a mobile app, enabling, among others, online diagnostics.
We offer:
Design of the installation tailored to the customer's needs and capabilities
Mechanical assembly of the installation – connection of all its components
Electrical installation – delivery and connection of control cabinets including the wiring of the boiler and of all boiler components
Commissioning works of the unit, setting he boiler's operating parameters as well as training in device operation and maintenance
Performance of emission tests by an authorized body and delivery of a report specifying the results of the measurements of the emission of individual pollutants.
Construction of the boiler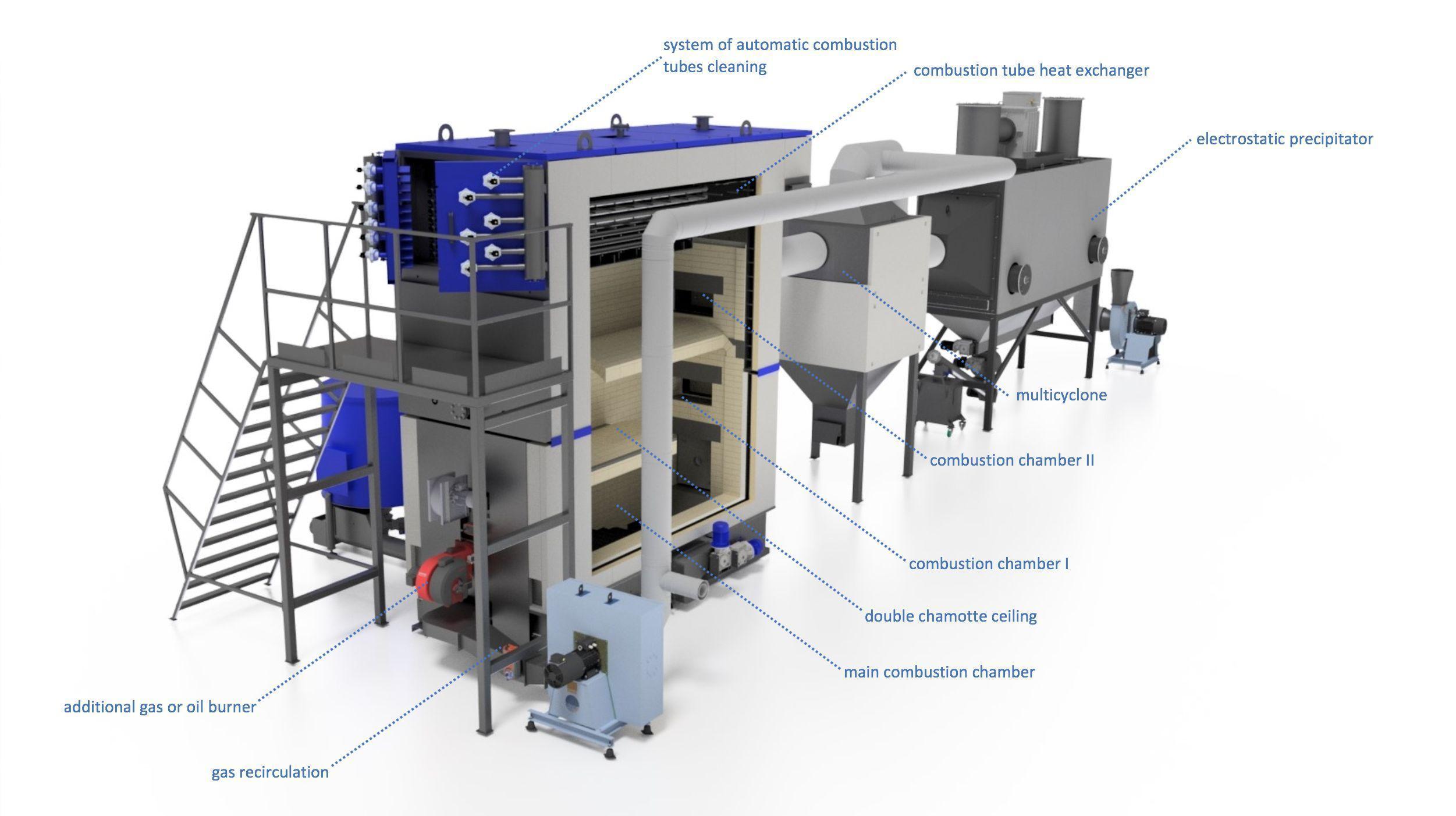 TECHNICAL DATA
EKOMAT RTPO
500 kW
1000 kW
1500 kW
2000 kW
3000 kW
Connection DN/PN [mm/bar]
100/6
125/6
150/6
200/6
250/6
Flow of exhaust gas * [m3/h]
2160
4320
6480
8100
12240
Hydraulic resistance [kPa]
20
20
20
30
30
Water capacity [m3]
2,65
4,80
5,90
7,10
10,00
Diameter of chimney [mm]
300/150/80
350/180/100
400/200/113
450/225/130
500/250/180
Weight [kg]
11 050
21 350
26 600
35 000
53000
Efficiency [%]
85-90
85-90
85-90
85-90
85-90

Teoretyczne zapotrzebowanie na powietrze [Nm3/kgpal]

3,76
3,76
3,76
3,76
3,76
* Reference temperature 180oC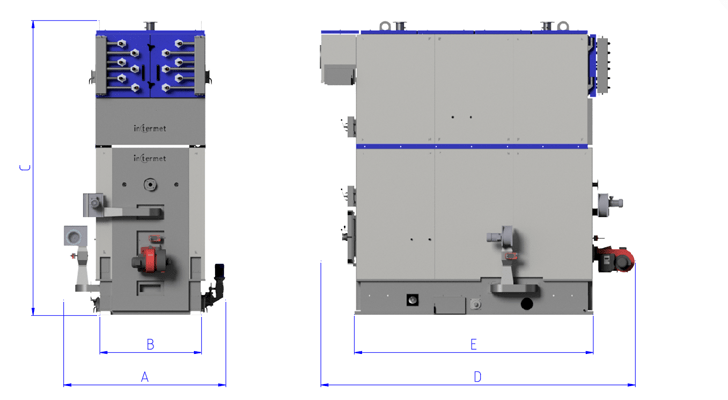 OVERALL DIMENSIONS
EKOMAT RTPO
A
B
C
D
E
500 kW
2180
1250
4200
4070
2830
1000 kW
2430
1450
4500
4940
3700

1500 kW

2630
1650
4900
5230
3990
2000 kW
2950
1900
5250
5670
4280

2800 kW

3120
2050
5750
6040
4840
Fuel feeding options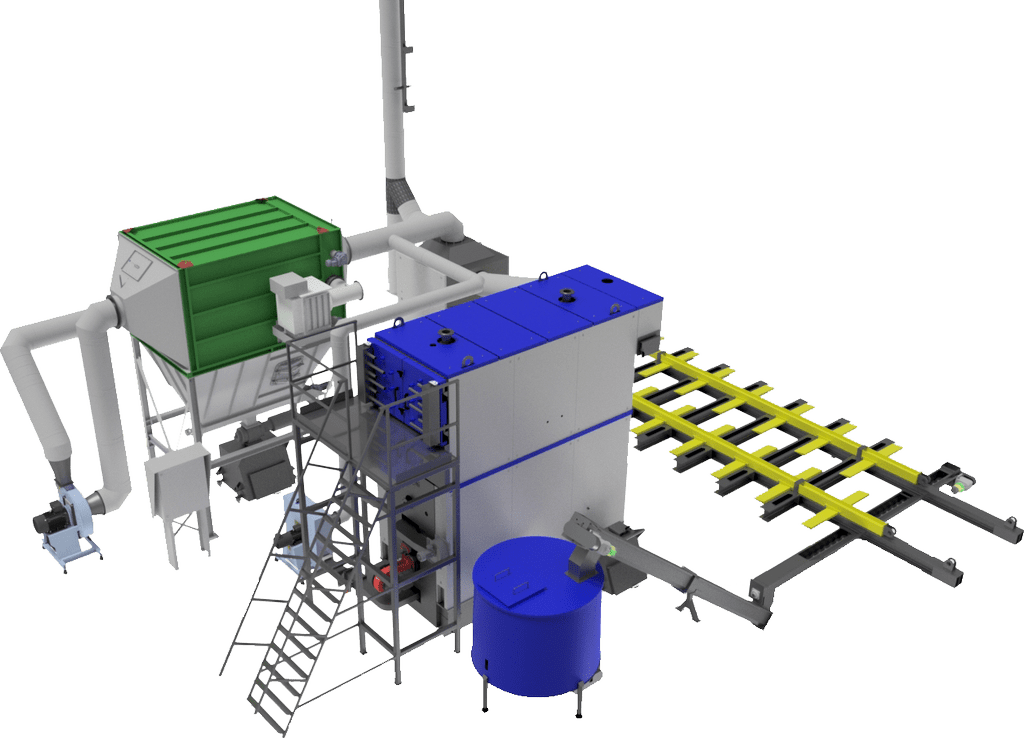 Ekomat RTPO with biomass storage and rolled tank. The rake, with a maximum length of 12 m, is driven by hydraulic cylinders. It is designed to transport fuel from the whole storage space to a screw conveyor. Then, fuel is transported to a rolled tank, wherefrom it is fed to a retort located in a combustion chamber.
Ekomat RTPO with rolled 1.8 m3 or 4.2 m3 tank. The tank is equipped with planetary gear driving profiled raking arms. Using a screw conveyor, fuel is fed to the retort located in the combustion chamber.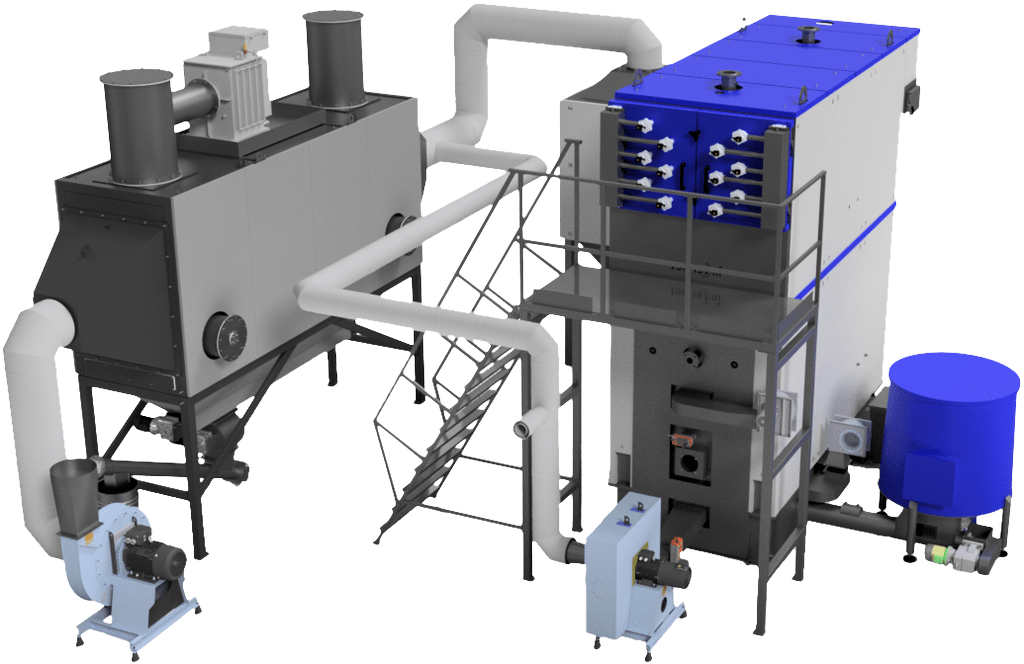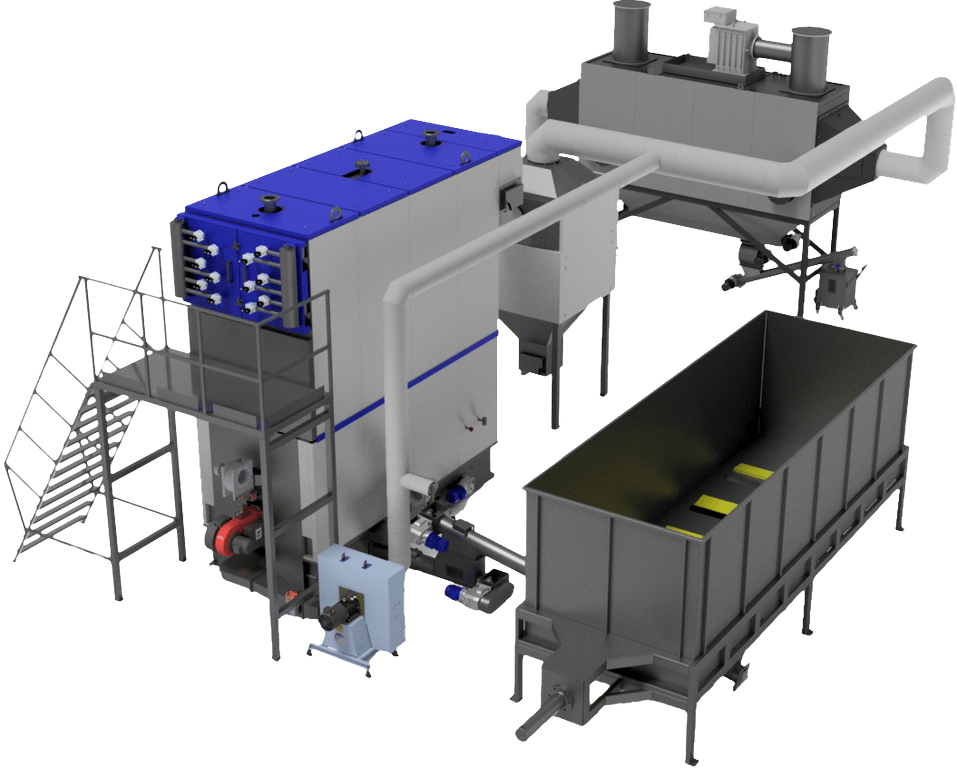 Ekomat RTPO with 5.5 m3 or 20 m3 container. Containers are equipped with hydraulically driven rakes. They transport fuel from the whole space of a tank to a screw conveyor. Using a screw conveyor, fuel is fed to the retort located in the combustion chamber.
Production line