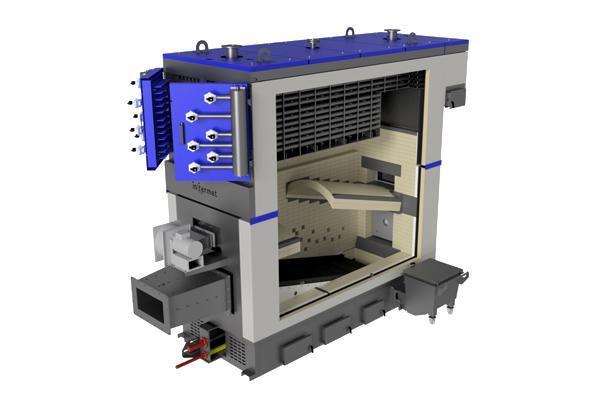 Ekomat MR Power Unit is designed for combustion of biomass in the form of chips of coniferous wood, deciduous wood and sawdust or bark with a moisture content of up to 55% and a size of up to 10cm.
Ekomat MR boilers are steel, water-operated, low-temperature boilers with four draught flue gas circuit. In standard, each unit is equipped with a hydraulically-driven sliding grate, which intensifies the fuel moisture evaporation and, consequently, makes the combustion process more efficient. MR series boilers are fed by a piston driving fuel to the combustion chamber. Biomass is transported to the boiler room by a system of redlers - chain conveyors linked to a biomass container or storage.
An automatic slag and ash removal system from under and above the grate is also a standard component of this series boilers. It facilitates cleaning and maintenance of the combustion chamber by removing residues of combustion process. Additionally, the units are equipped with an emergency cooling system of a heat exchanger and air-cooling system of a grate.
Boilers of Ekomat MR series are fully automated. Advanced controllers control all the unit's operating parameters. In addition, we provide remote access to the control panel, via a mobile app, enabling, among others, online diagnostics.
We offer:
Design of the installation tailored to the customer's needs and capabilities
Mechanical assembly of the installation – connection of all its components
Electrical installation – delivery and connection of control cabinets including the wiring of the boiler and of all boiler components
Commissioning works of the unit, setting he boiler's operating parameters as well as training in device operation and maintenance
Construction of the boiler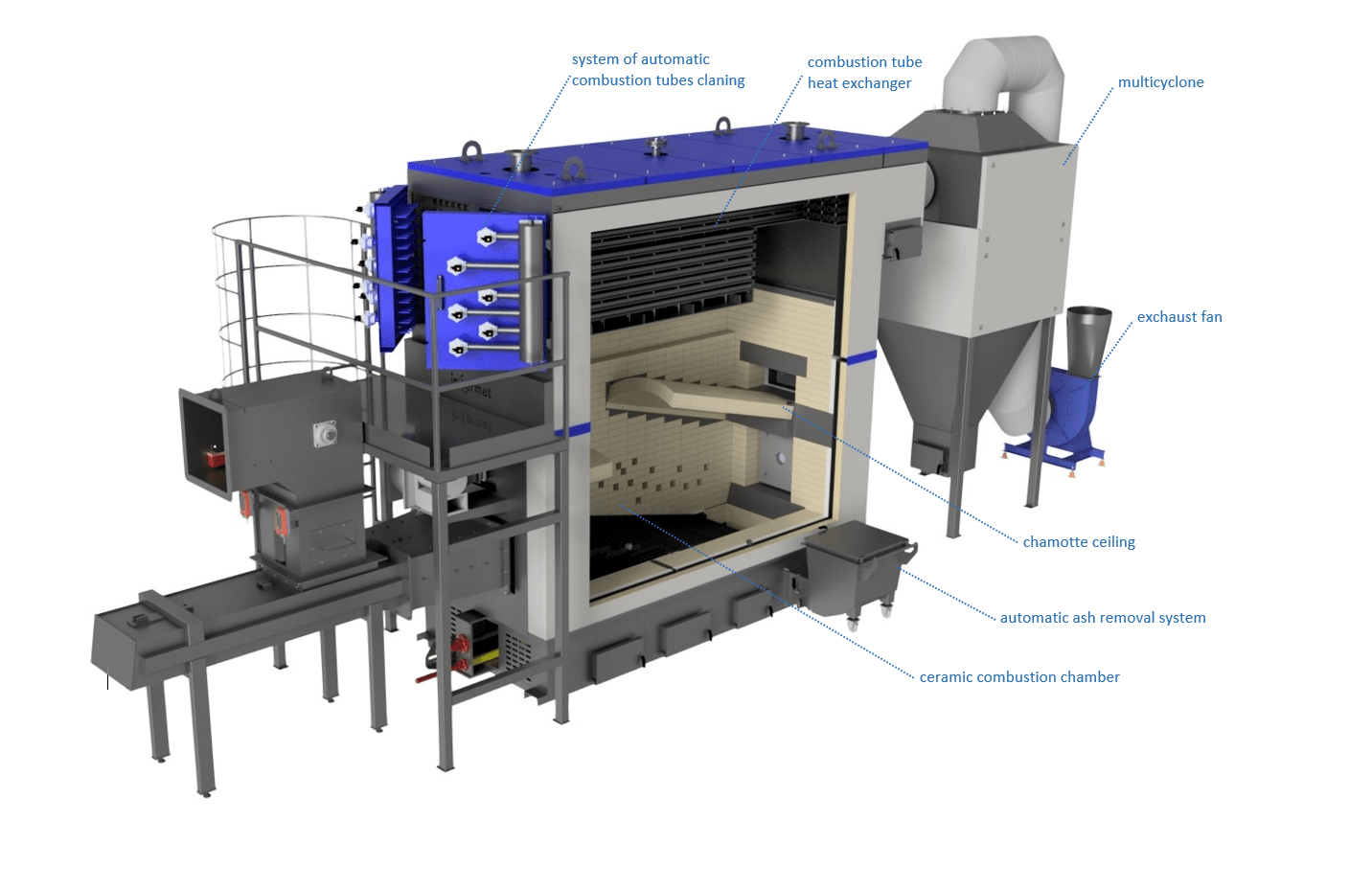 TECHNICAL DATA
EKOMAT MR
1000 kW
1500 kW
2000 kW
3000 kW
Connection DN/PN [mm/bar]

125/6

150/6

200/6

200/6

Flow of exhaust gas* [m3/h]
6 800
10 190
13 600
20 380
Hydraulic resistance [kPa]

10

10

25

25

Water capacity [m3]
4,30
5,60
7,35
9,90
Diameter of chimney [mm]

400

500

600

700

Weight [kg]
19 000
24 400
30 850
40 400
Efficiency [%]

85-90

85-90

85-90
85-90
* Reference temperature 180oC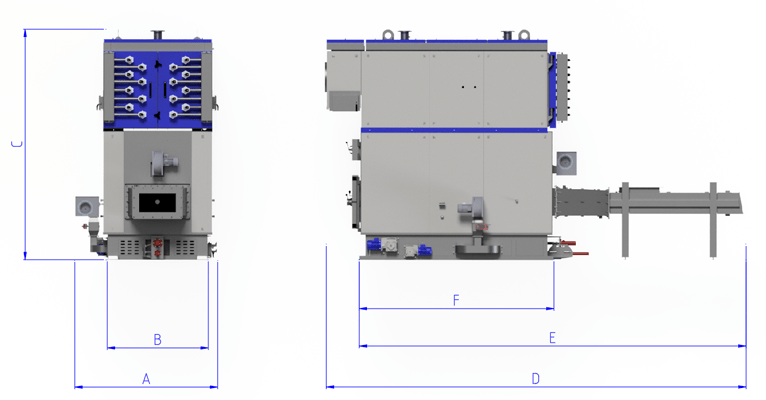 OVERALL DIMENSIONS
EKOMAT MR
A
B
C
D
E
F
1000 kW
2160
1400
4000
7400
6830
3700

1500 kW

2410

1650

4300

7700

7130

3990

2000 kW
2610
1850
4560
8190
7620
4280

3000 kW

2870

2050

5020

8770

8200

4860
Fuel feeding options
Ekomat MR with 20 m3 container. Containers are equipped with hydraulically driven rakes. They transport fuel from the whole space of a tank to a chain conveyor. Then, fuel is transported to a feeding drawer, wherefrom it is fed to a combustion chamber.
Ekomat MR with biomass storage. The rake, with a maximum length of 12 m, is driven by hydraulic cylinders. It is designed to transport fuel from the whole storage space to a chain conveyor. Then, fuel is transported to a feeding drawer, wherefrom it is fed to a combustion chamber.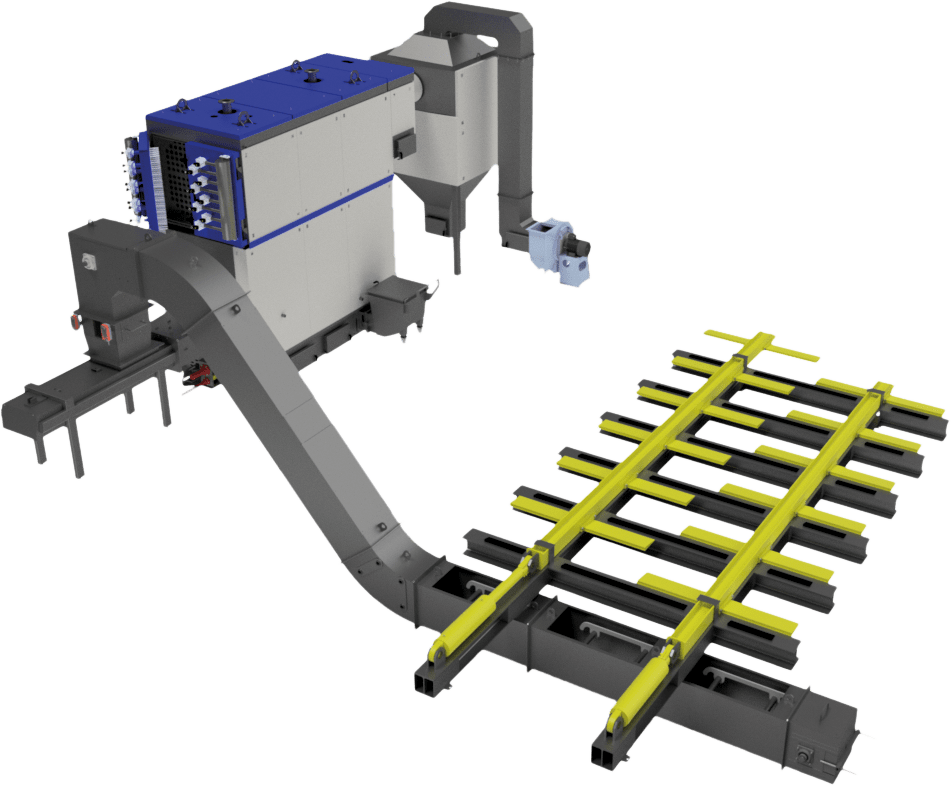 Production line